Outdoor Adventure Centre 20
Events are scheduled at 9 am 11 am and 2pm &4 pm daily. For queries and bookings on the below Activities, please contact us per email at This email address is being protected from spambots. You need JavaScript enabled to view it. or call + 27 87 820 4146
01 December 2019 to 30 November 2020
Quad Biking
Search for adventure and wildlife on one of our four- wheelers, while negotiating natural obstacles en-route. Join us for a quad biking adventure trail through the Letsatsing Game Park, accompanied by experienced guides, with the possibility of seeing Giraffe, Zebra, Impala and other wildlife en route.
Children

Children are classified as a pax therefore on certain activities the full rate will apply to them
Under 8 years can be lifted by an adult – no under 5 years
Option 1

Option 2

Duration:

1 hour ride

, total of 2 hrs

Maximum: 15 people

Rate: Adults

R 730

per person

Rate: Children

R 550

pp under 16 years

Duration:

30 minute

ride, total 1 hour

Maximum: 15 people




Rate Adults:

R 520

per person

Rate:

R 390

per child under 16 years
---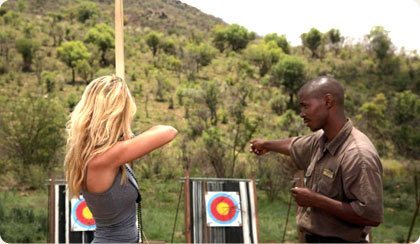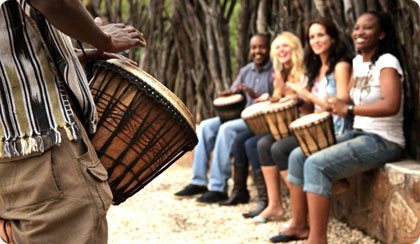 Archery
Try your hand at the ancient sport of Archery and master this skill with a unique bow Experience the ancient art of archery with the help of modern-day equipment. Competent instructors will help you master the technique of shooting a re-curve bow.
Duration: 1 hr activity, total 2 hrs
Maximum: 20 people
Rate: R 340 per person outdoor
Rate: R 170 per person intdoor
---
Mountain Biking
The mountain bike route consists of rocky terrain, rivulets and mountainous terrain that is not too steep. The route covers a distance of 9.7 km through a private game park situated in the Sun City Resort bordering the Pilanesberg National Park. It is a 700Ha reserve with plenty of wildlife such as Wildebeest, Impala, Sable, Zebra, Giraffe, Warthogs, Nyala, Kudu and much more, not to forget about all the smaller creatures, critters and bird life.

Includes Bicycle & Safety Gear: R240 per person (One entry only)ntry only)
Excludes Bicycle & Safety Gear: R80 per person (One entry only)
Maximum weight: 120kg (if hiring a bicycle)
* Please note: A degree of physical fitness is required. Excludes day visitor entrance fee into Sun City and Valley of the Waves. No lead person, the rider will go on the route without any guidance.
---
Chimp & Zee Rope Adventure Park
Rope adventure parks are made up of individual elevated obstacles or challenges interconnected to form exciting adventure courses.
These courses are typically made up of various 'elements' – from high balancing beams, speedy zip lines, hanging spider nets to jungle rope bridges and much more.
This activity will be conducted daily, year round and operating hours are from 09:00 until 18:00.
The duration of the activity will be approximately 45 minutes. The activity departure point is from the Valley of the Waves.


Duration: 45 minute session
Cost: R210 -per person
Minimum Height : 1.2 meters
Maximum weight : 120kg
*Please note: Excludes day visit entrance fees into Sun City and Valley of the Waves. A degree of physical fitness is required but if you can run up a flight of stairs, you should be fine.
Leeto-Kgolo Village Tour
Explore the rich and dynamic history of Bakgatla-Ba-Kgafela tribe, the people of Pilanesberg. This exciting tour takes you to four Bakgatla heritage sites combined with a travel through the village on bicycles. The route has some off-road experience and mountainous tar road and includes stops at the cemetery of the first missionaries to arrive in Moruleng in the 1800's, a stop at Kgosi Kgamanyane's wall, a local shebeen/tuck shop for some refreshments and interaction with the locals, the first non-missionary school, the rain making rock.
Followed with a stop at "Tshilong" where guests will get a traditional beer welcome drink and learn about traditional food preparations and get hands on involved in the process. Afterwards the tour will end at TT's for traditional pap, veggies, meat and a soft drink before heading back to Sun City.

Duration: 3 hour tour (4 hours from Sun City)
Cost: R810 -per person
Minimum: 4 people MAXIMUM: 20 people
---
Payment & Cancellation
Full payment is required 7 days prior to the first activity booked.
All changes must be in writing & all amendments must be received at least 7 days before the activity takes place. Should we not receive any amendments in writing; the total confirmed pax will be charged.
A 100% cancellation fee will apply should a cancellation or amendment be made within 7 days of the first activity booked.
Mankwe Gametrackers Management reserves the right to cancel any transfer or activity due to unforeseen circumstances. In the event of a management cancellation a full refund will be given on the amounts paid.
Indemnity
All pax are required to sign an indemnity form for all transfers and activities they are participating in prior to departure of the activity.
The indemnity form must be signed by a Parent/Legal guardian for children under 18 years.
Any unaccompanied child under 18 requires the indemnity to be signed by a parent/legal guardian prior to the activity.
Children
Children are classified as a pax therefore on certain activities the full rate will apply to them
The following age/height limits apply:
Hot Air Balloon Safari – need to be taller than 1.2m
Quad Biking - Under 8 years can be lifted by an adult – no under 5 years
---
---
For queries and bookings on the Game Drives or accommodation, please contact us per email at This email address is being protected from spambots. You need JavaScript enabled to view it.
For more information call +27 87 820 4146
While staying at one of the following hotels and game lodges, we recommend our guests to participate in this exciting outdoor adventure: