Mziki Safari Lodge
4* Accommodation near the Pilanesberg National Park
Nestled beneath the shady Karees in the heart of Mziki Private Game Reserve, just two hours' drive from OR Tambo International Airport in Johannesburg, Mziki Safari Lodge offers a natural, affordable haven for eco-travellers seeking an authentic, unaffected encounter with the African bush.
Set on a prime malaria-free bushveld, Mziki Private Game Reserve is home to three of the "Big Five, and over 50 species of mammals and 372 species of birds, making it one of the best birding areas in South Africa.
Perfect for families with a range of engaging activities for children of all ages, Mziki Safari Lodge offers a genuine home-away-from-home, individualistic bush experience combined with charming South African hospitality.
Mziki Safari Lodge is yours to enjoy at your pace, a relaxed environment for both young and old, extending the true hand of friendship to all those who visit it. Mziki Safari Lodge is located in the North West Province, between the towns of Rustenburg and Brits. We are roughly 1.5 hrs from Johannesburg North. The lodge is situated in the beautiful 6000 hectare Mziki Private Nature Reserve. The Hex river bisects the reserve and flows into the Vaalkop Dam just north of the property.
Browse the tabs below to view more information about the lodge.
Rates

Specials

Accommodation

Activities

Daily Programme

Direction

Facilities

Ha Lolo Beauty Spa

Terms
Rates inclusive of 15% VAT • South African Rand • Subject to Availability

Details

18 Dec 2022 - 30 Nov 2023

Main Lodge Standard Per Person Sharing per night
on Request
Main Lodge Standard Single per night
on Request
Garden Chalets/Rondavel Per Person Sharing per night
on Request
Garden Chalets/Rondavel Single per night
on Request
Christmas: 16 December 2021 – 09 January 2022
Easter week:
» Min. 3 nights stay
» Surcharge R 300 per adult per night

Look at our Special Offers for SA Residents under our special offers section!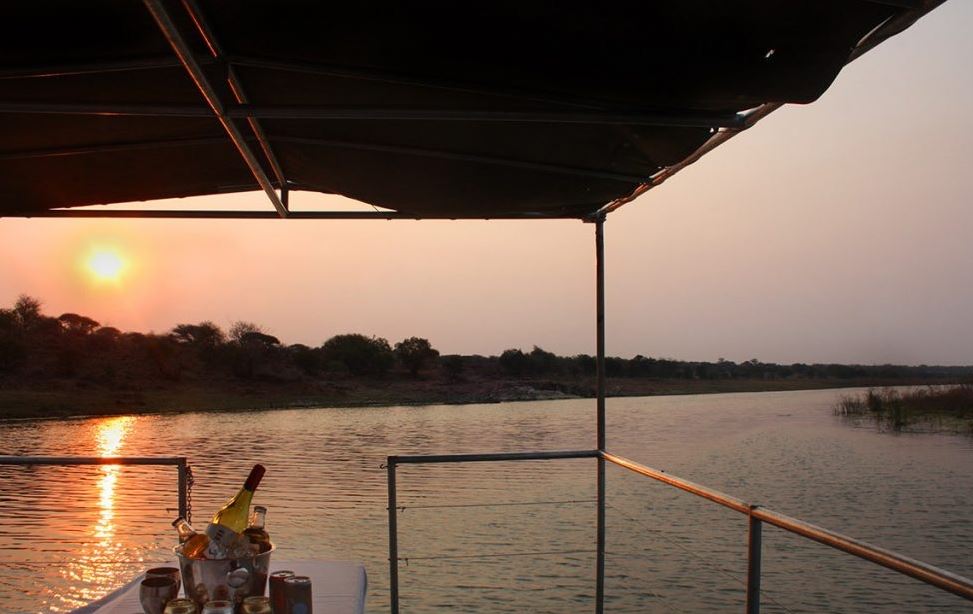 Minimum 2 nights Stay
Inclusive of:
Dinner Bed and Breakfast
1 game drive and 1 bush walk daily
Rate of R 2 150 per person sharing per night in a standard room and R2 790 single room per night
Child rate 04-11 years R1 140 per night
Subject to availability
T's and C's apply
---
BARGING INTO THE BUSH AT MZIKI SAFARI LODGE
Mziki ticks all the boxes for a memorable Bush Experience
only 2 hours from Gauteng.

'Barge' into the amazing Vaalkop Dam from our Hex River
There is no better way to enjoy nature and your next holiday!

A huge thank you to all our repeat guests!
We love having you as part of our Mzki family and watching your children grow.
FUN EASTER WEEKEND ACTIVITIES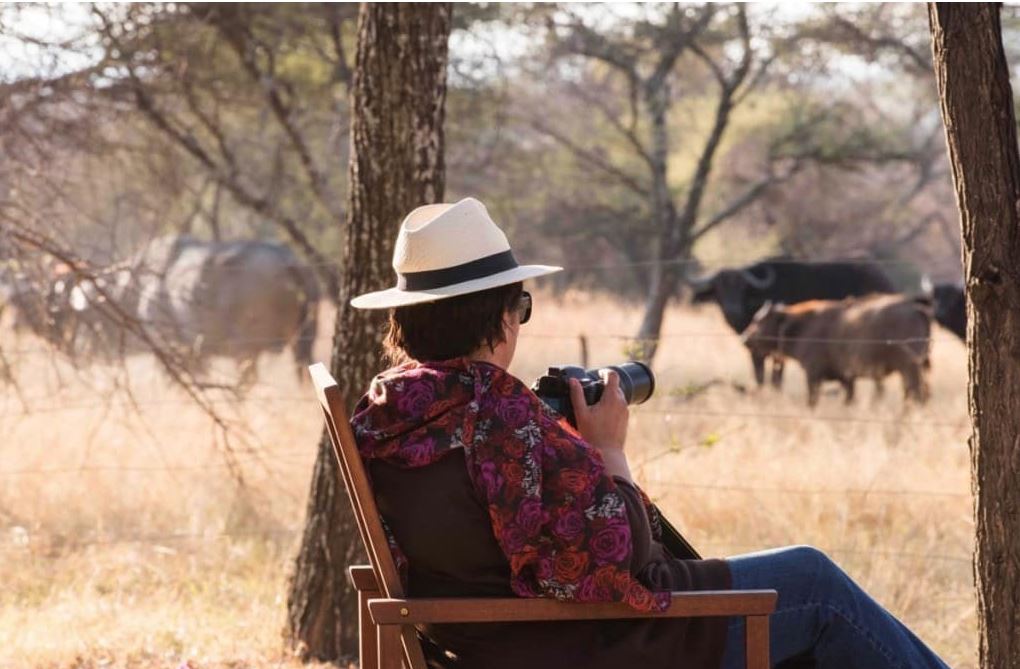 Children aged 5 years or older can be enrolled in Mziki's Mini-Ranger program.
Identify different animal calls and sounds!
Recognise different trees and their uses to tracking and navigating!
A camp treasure hunt: Find and collect specific items around the lodge!
Cultural Experience: Learning about the Khoisan and their origins!

Each child will receive a Mini-Ranger Certificate.

The Mini-Ranger course is free to all children of our guests.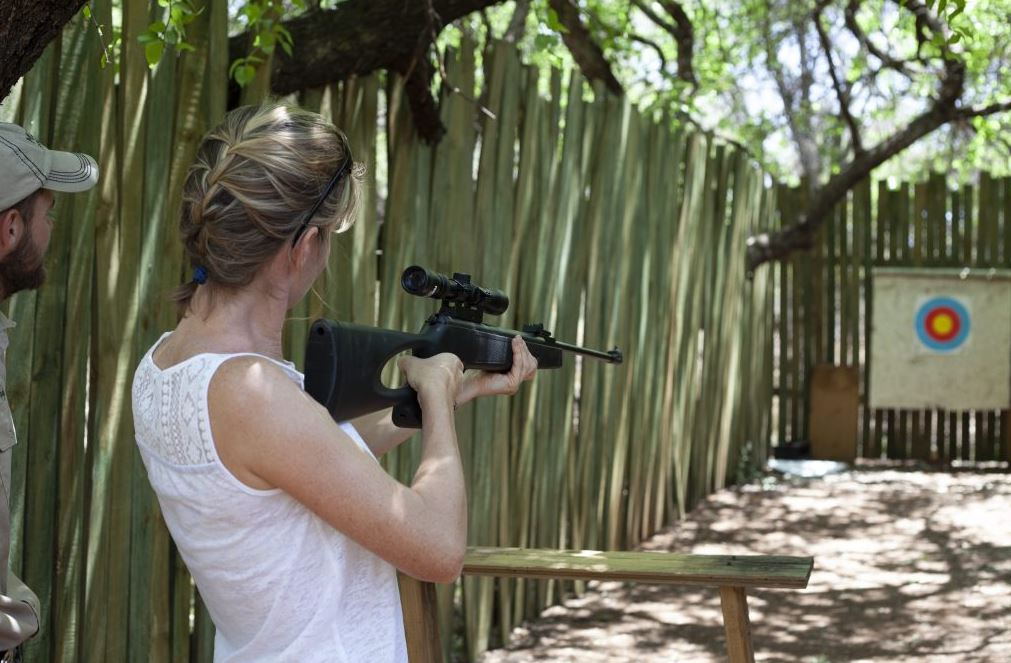 ---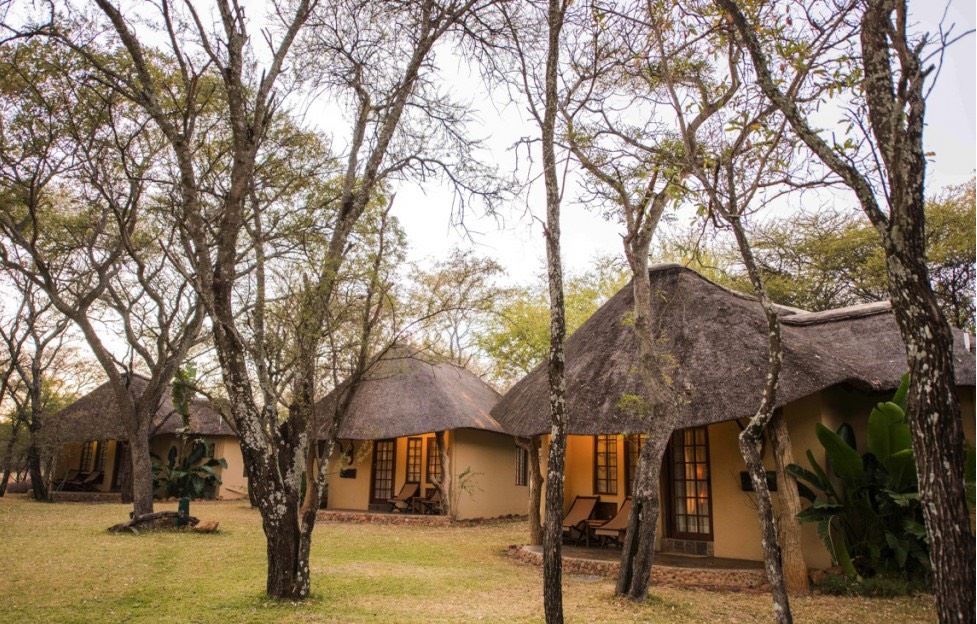 3 thatched chalets with en suite bathrooms (shower within a bath). Each can be converted into a double bed or two 3/4 beds, a sleeper couch (accommodates max 2 under 11 children).
2 thatched rondavels with two 3/4 beds in kings size style and open plan en suite bathroom (open separate shower and bath).
2 Main Lodge bedrooms with en suite bathrooms (shower within a bath). Both have King sized beds.
2 Main Lodge twin bedded rooms with en suite bathrooms (shower only). Each can be converted into a double bed or two 3/4 beds.
In-room facilities in all rooms: air-condition, ceiling fan, small safe, electric blanket for winter months, tea and coffee making facility, complimentary guest amenities.
Please note that all our rooms are non-smoking
Mini-Ranger Course
If you are aged 6 years or older, and if you have dreams of becoming a game ranger just like our very 'smart' Mziki game rangers, why not ask mom and dad to enrol you in Mziki's Mini-Ranger programme.
From vehicle preparation and inspections, to identifying different animal calls and sounds, recognising different trees and their uses to tracking and navigating you will soon know all there is to know to become a top-class game ranger. At the end of the programme you will even receive a certificate to say that you have completed the mini-ranger programme and have your photo taken which will then be added to the Mziki Wall of Fame.
The Mziki Mini-Ranger programme is tailor-made according to age and the duration of your stay and even better news is that it is free of charge.
You can also look forward to the following:
Camp treasure hunt:
A fun experience where you will have to find and collect specific items around the lodge. There will be clues for you to solve and items that you will have to identify with the help of the rangers.
Cultural experience:
Our game rangers will also tell you more about the "Bushmen" (Khoisan) people of southern Africa and their origins. Make sure to ask lots of questions!
Quiz:
Listen carefully at everything that the rangers tell you. At the end of the programme there will be a fun quiz.
Birding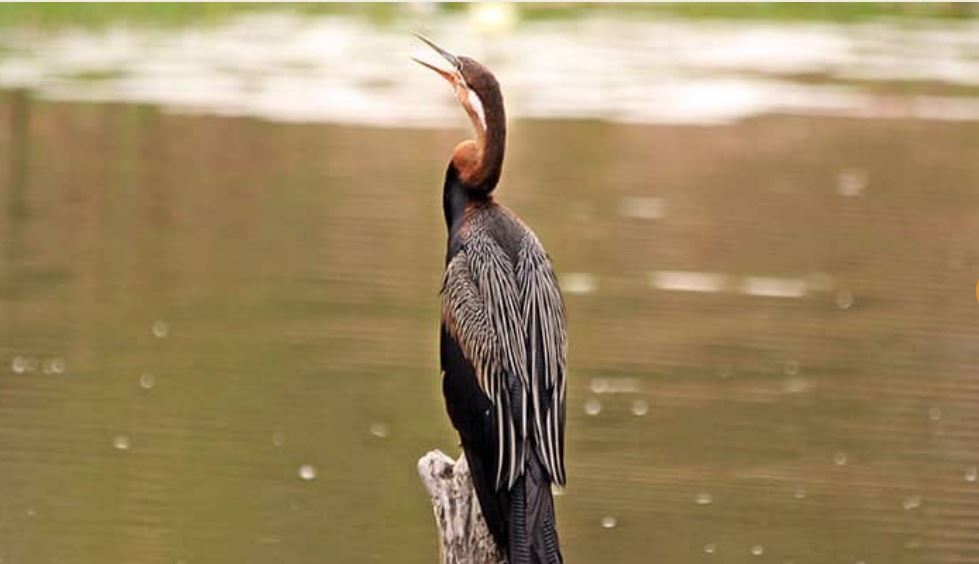 Birders will delight in Mziki Safari Lodge's excellent bird-watching opportunities. Bordering the 2,000-hectare Vaalkop Dam, considered one of the top three birding areas in the country, Mziki Private Game Reserve is home to several hundred species of birds. The mighty Hex river runs through the reserve and into the dam on which Mziki guests can enjoy barge cruises to get up close and personal to the birdlife.
Archery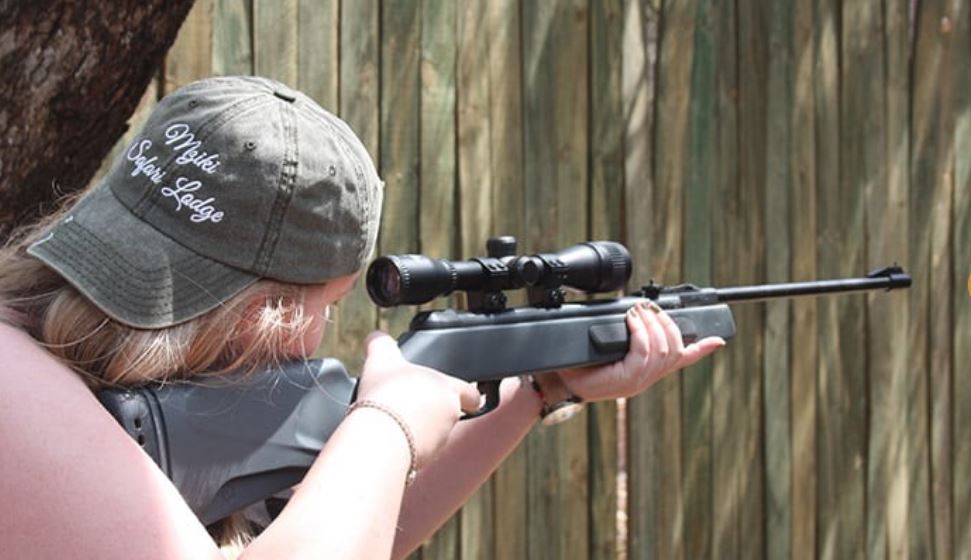 Take your aim and try your hand at archery, available within the safe confines of Mziki Safari Lodge. A target and bows and arrows are provided for willing archers seeking to perfect their targeting skills.
Fishing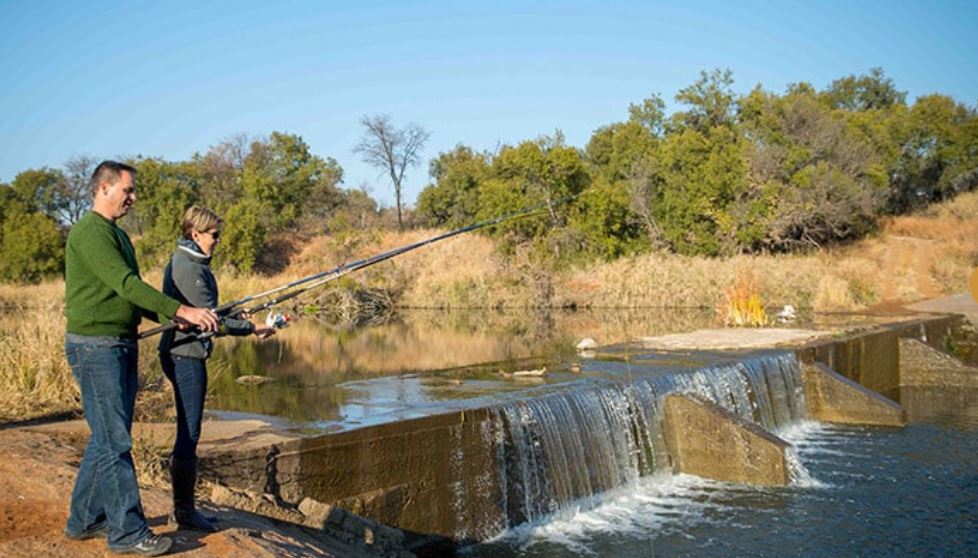 Keen anglers will adore the myriad of fishing opportunities available at Mziki Safari Lodge, with the 8km of the mighty Hex river flowing through the reserve and providing the perfect environment for fly and bait fishermen. Fish species that can be caught here include Yellow fish, Blue and Red curper, carp and barbel. For the sake of our rather vocal, hungry Fish eagles, Mziki Safari Lodge exercises a catch and release policy.
Barge Cruises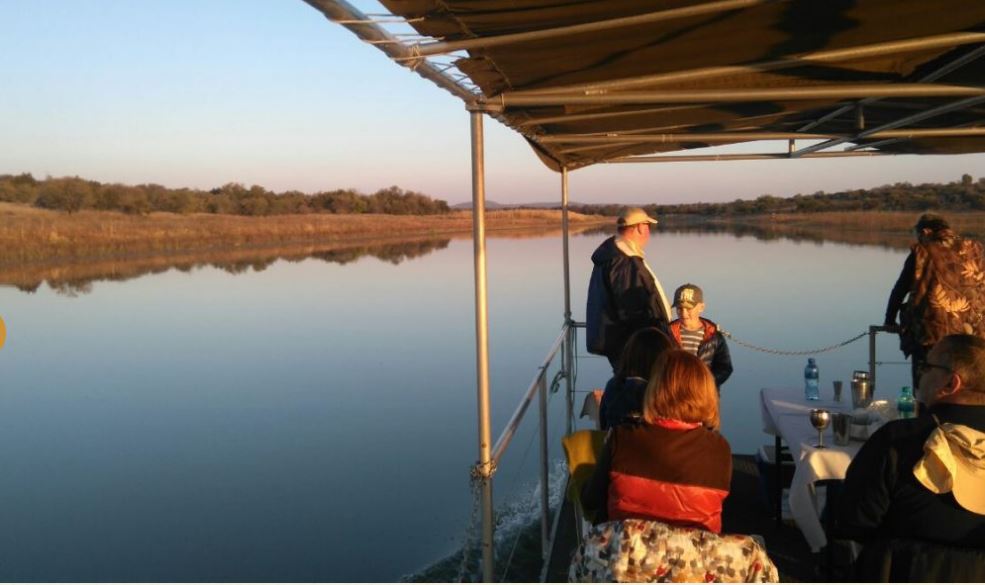 The mighty Hex river flows through Mziki Safari Reserve providing over 8km of river frontage through the reserve. A particular highlight among guests is the convivial Mama Hippo barge cruises that Mziki Safari Lodge offers along Hex river into the Vaalkop dam. Depending on the water levels, guests can enjoy a different encounter with the African bushveld, this time from the water's side, watching the crocodile and water birds go about the daily business while enjoying are refreshing drink.
(Barge cruise is water level dependent. Please inquire about water levels)
Bush walks

Get up close and personal to the bush as you accompany one of our knowledgeable rangers on a bush walk to observe unobstructed wildlife behaviour. Visit areas that cannot be explored by vehicle and gain first-hand knowledge of some of Africa's hidden secrets on foot, surrounded by the cheerful chattering of birds.
Game viewing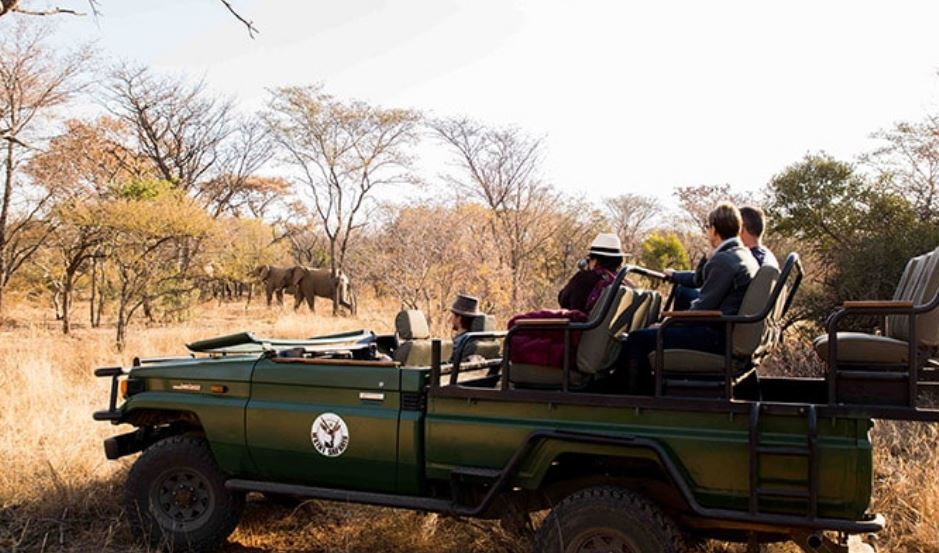 Home to three of the Big Five – Elephant, Buffalo and Rhino – Mziki Safari Lodge offers a malaria-free environment in which families can enjoy safari viewing in a safe, comfortable and relaxed environment. Mziki Safari Lodge does not have an age restriction for game viewing with families catered for on their own game vehicles so as to ensure their comfort and that of other lodge guests. Explore the wonders of the African bush by day, or night, with your expert game ranger, from the area's prolific birdlife, to mammals, trees and even insects.
SUMMER PROGRAMME: (SEPTEMBER TO APRIL)

Day of Arrival:
13h00 Arrival at Mziki & check-in to room
14h00 Lunch is served
16h30 Depart for afternoon game drive
19h00 Afternoon game drive returns to the lodge
19h30 Dinner is served

Full Day(s):
06h00 Early morning wake up
06h30 Morning game drive departs
09h00 Morning game drive returns
09h30 Breakfast is served
14h00 Lunch is served
16h30 Depart for afternoon game drive
19h00 Afternoon game drive returns to the lodge
19h30 Dinner is served

Day of departure:

06h00 Early morning wake up
06h30 Morning game drive departs
09h00 Morning game drive returns
09h30 Breakfast is served
11h00 Check out time

The above times are only an indication and may vary dependant on the seasons and weather conditions.

Please Note: Our Selous bar has a wide selection of beverages. We will gladly try and fulfl your special beverage requests.
From OR Tambo International to Brits:
As you exit the airport turn onto the R21 towards Pretoria.
Follow the highway until the N1 turnoff.
Turn onto the N1 north, towards Polokwane, Bela Bela.
Follow the N1 to the N4, do not turn towards Witbank, take the second N4 off ramp towards Rustenburg.
Go through 2 tollgates, about 10 Rand each.
Take the R511, Brits turnoff.
Turn right onto the R511 and drive through Brits, do not turn off and follow the R511 towards Thabazimbi.
36 km after Brits turn left towards Vaalkopdam and Beestekraal.
At the T-junction turn left, after 1 km turn right. Follow the road for a few kilometers until you see the sign for Mziki Safari Lodge on the right hand side.

From Lanseria to Mziki:
Follow the R 512 towards Broederstrom.
After 7km turn left, follow R 512 for 10km, turn right towards Sun City.
Follow R 512 to Sun City for another 15 km and turn left on to N4 towards Rustenburg.
After 15km take turn off N4 and follow direction to Sun City.
Drive towards Sun City for exactly 40 km, at stop street turn right towards Beestekraal.
After 20 km you see a large water tower on your left and a sign on your left to Mziki Safari Lodge.
Once you are on the dirt road: Drive through the open gate, along the middle road, and follow the road around the hill to the Mziki Safari Lodge Gate.
Phone the lodge 071 355 4334 for access.
Enter the gate and please wait for the gate to close automatically behind you.
Continue straight down the main road until you fnd a fork in the road and take the right hand road.
Follow this road to the lodge and park in the covered parking area provided.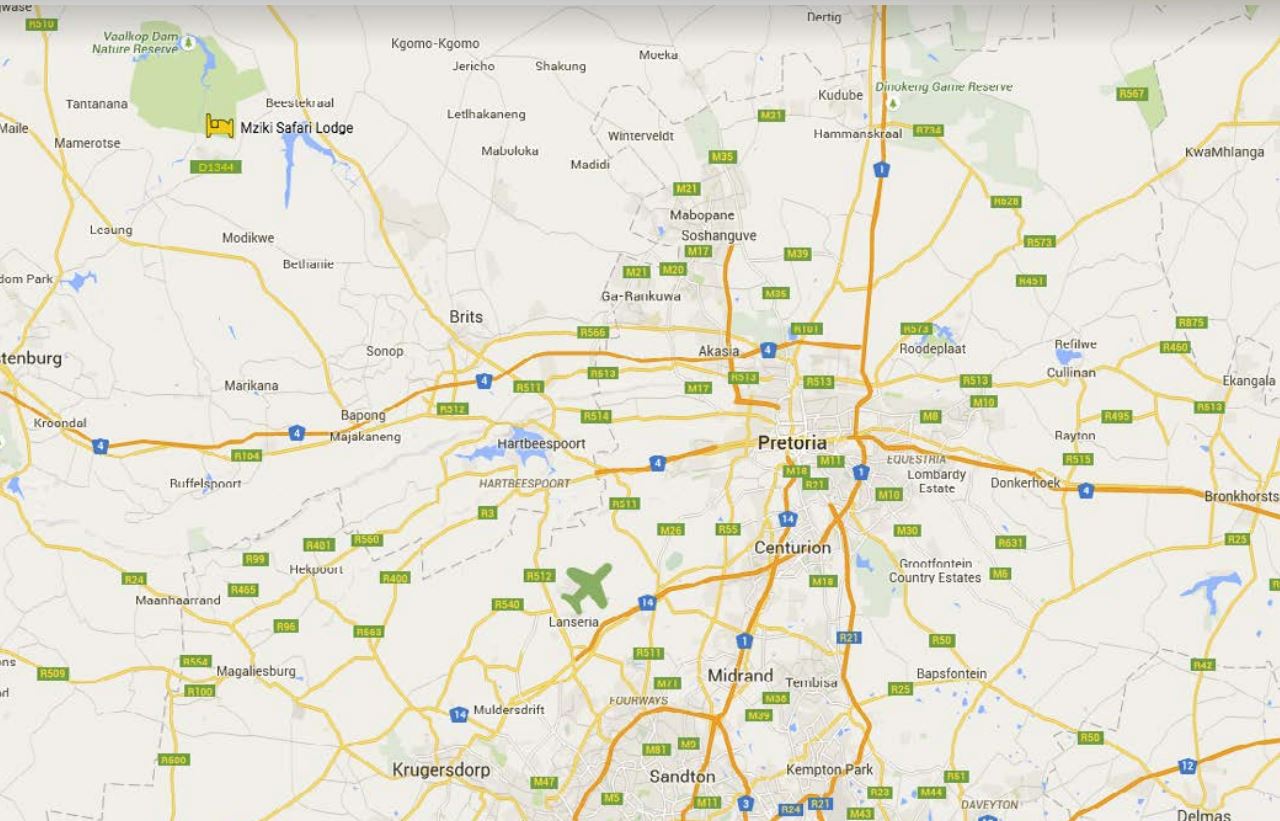 Large swimming pool
Outdoor lounge
Indoor lounge with full DSTV
Floodlit Watering Hole
Selous honesty bar
Boma restaurant
Outdoor boma
Archery
Pellet shooting
Mobile Spa
Curio Shop
Board Games for young & old
Library
Meeting Room
Services
Laundry service
Secure parking
Check in 13.00 / check out 11.00
Catering for all diets
Mkizi Signature Treatment

MZIKI AWAKENING FULL BODY


An ultra-gentle full body massage. Revive your body and mind using cold compressors with essential oils.

R 900

(90 MINUTES)

HOT STONE MASSAGE


Special rocks that are formed by African volcanoes to melt away the tension in your body and ease muscle aches.
R 750
(90 MINUTES)

MZIKI WELNESS


Experience the liquid wax warm massage candle with oriented fragrance targeting sore muscles and leave your skin soft and nourished.
R 950
(90 MINUTES)

MONYOLLA LYMPH DRAINAGE


Detox foot treatment, followed by a full body lymph drainage massage which assists with detoxification and stress release.
R 800
(90 MINUTES)

Packages Per Person

FULL DAY MZIKI PAMPER
Full Body Exfoliation - Full Body Wrap - Full Body Massage
Delux Pedi - Delux Mani - Scalp Massage

R2 250

(6 HOURS)

MZIKI HALF DAY PAMPER


Full Body Exfoliation and Full Body Massage with Mini Facial and Mini Manicure.
R1 100
(3 HOURS)

COUPLES PAMPER


Full Body Massage, Foot Ritual and Mini Facial.
R1 850
(2.5 HOURS)

LADIES DAY OUT


Back and Neck Massage with Mini Manicure and Mini Pedicure
R1 700
(2 HOURS)

Body Therapy


Stress and muscle tension release. Choose one of our antioxidant oil blends with pure grapeseed oil or massage butter
DEEP TISSUE
R650
(60 MINS)
FOOT MASSAGE
R350
(30 MINS)
HEAD AND SHOULDER
R350
(30 MINS)
BACK AND NECK
R440
(45MINS)
FULL BACK AND SCALP
R500
(60 MINS)
SWEDISH FULL BODY
R500
(60 MINS)
MOM TO BE
R600
(60 MINS)
Hands and Feet

Nail Enhancement

PAINTING
R150
(20 MINS)
Acrylic or Gel
MINI MANICURE
R200
(30 MINS)
FRENCH TIPS
R250
(45 MINS)
MINI PEDICURE
R250
(30 MINS)
CLEAR TIPS
R300
(45 MINS)
MANICURE
R260
(60 MINS)
COLOUR
R350
(75 MINS)
PEDICURE
R300
(60 MINS)
REFILL
R180
(45 MINS)
DELUX MANI
R350
(75 MINS)
GEL COLOUR
R180
(45 MINS)
DELUX PEDI
R400
(75 MINS)

Facial Therapy

Waxing

MINI FACIAL
A boosting facial therapy to your unique skin concerns
R250
(30 MINS)
EYEBROW/LIP/CHIN
R 80
(15 MINS)
MENS FACIAL
A relaxing and luxurious facial, targeting skin problems
by reducing redness and sensitivity
R450
(60 MINS)
UNDERARM
R120
(35 MINS)

ANTI-AGEING FACIAL


Reduces fine lines, wrinkles and puffiness by using
specialised boosters and serum perfect for your skin tone.
R700
(90 MINS)
BIKINI
R150
(30 MINS)

DEEP CLEANSING FACIAL


Deep cleansing facial which revitalises, refreshes and
strengthens your skin: leaving it youthful and glowing.
R450
(60 MINS)
HALF LEG
R200
(40 MINS)

Tinting

FULL LEG
R250
(60 MINS)
EYEBROW/LASH
R80
(15 MINS)
BACK/CHEST
R220
(40 MINS)
BRAZILIAN
R200
(35 MINS)
Rate Includes:
Accommodation
Full Breakfast
Light lunch
Dinner
Two activities (Game drive, bush walks or barge cruise depending of water level)
Conference bookings: replace one activity for the use of meeting room and 2 tea-coffee breaks
Rate Excludes:
All beverages
Laundry services
Personal expenses
Spa treatments
Conservation fee: Adult R90, Children R60 per stay
Family getaway:
Children of all ages are allowed on game drives. 
Bush walk age 16+ years
Children under 4 years stay free of charge in parent's room
Children 4-11 years rate R1 320 per night (max 2)
Mini-Ranger course included for 6+ years and min. 
2 nights stay
Additional Activities & Transfer Rates:
One way transport (1 - 4 persons) from JNB - Lodge R2,500 (subject to fuel price increase)
Fishing in our river R500 per person for all ages 6 years and above
Enquire about excursions in the area
Value Adds:
Complimentary barge cruise on bordering 2000ha Valkopdam (subject to water level)
Romantic turndowns and private dinners for honeymoon, anniversaries or special occasions
Complimentary WIFI
Complimentary archery & pellet shooting
Lodge facilities and accommodation:
Lounge with fireplace and DSTV
Large swimming pool with sun loungers
Terrace and outdoor lounge area
Boma restaurant with full bar and fire place
Meeting room for 18 persons
Children playground and outdoor gym equipment
Double hammock
Watering hole in front of Lodge area
Curio shop & library
Deposit Policy
For all bookings made within 30 days of travel
Full payment Is required within 48 hours of your booking. This payment can be made via bank transfer or credit card (Master/Visa).  
For all bookings made more than 30 days of travel 
A 50% deposit Is required within 48 hours of your booking and the balance 30 days prior to arrival. This payment can be made via bank transfer or credit card (Master/Visa).
Cancellation Policy
 All cancellations must be done in writing
 60 - 31 days before arrival, 25% cancellation fee
 30 - 15 days before arrival, 50% cancellation fee
 14 - 0 days before arrival, 90% cancellation fee
A 10% admin fee will be retained for cancellations made after the card has been charged.
Times:
Check-in: 1 pm
Check-out 11 am
IMAGE GALLERY
LOCATION MAP